Part-Time General Management
Develop your methodological and leadership skills while continuing to work
If you don't want to put your professional career on hold, the Black Forest Business School at Offenburg University offers you the opportunity to earn an MBA degree with an in-service degree program accompanying your professional commitment.
Together with leading companies from the regional economy and the RKW (Rationalisierungs- und Innovationszentrum der Deutschen Wirtschaft), we have analyzed the type and scope of demand for such an MBA program. Specialists - prominently including engineers - are most sought-after if they also have business-management and leadership skills and can demonstrate some practical experience. Therefore, a key objective of the part-time MBA General Management program, which has proven its worth over many years, is to further train committed professionals in broadening their career prospects.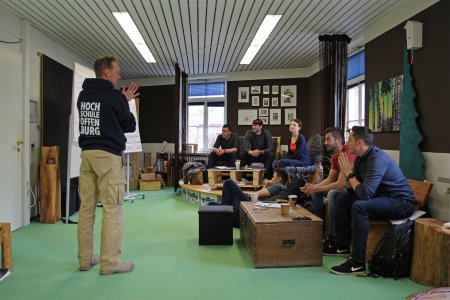 Business-management and leadership skills are trained at a demanding, academic level, enriched with strong practical and international references. Especially the case studies, simple and complex business games as well as practical projects, taken from everyday business life, combine the fun of learning with quick success and immediate transferability to one's own professional environment. This qualifies our graduates to take on specialist and management responsibilities in interdisciplinary teams and on international level.
After successful completion of the 2-year/4-semester degree program, the title "Master of Business Administration (MBA)" is awarded.